About Peterborough Morris
The Dances
Peterborough Morris perform mostly traditional dances in the styles of various villages in the south Midlands of England, a form known as Cotswold Morris. This is usually performed with hankies or sticks and is probably what most people associate with the term "Morris Dancing". Cotswold dances are from in or around Oxfordshire and Gloucestershire.
Our current repertoire includes dances in the style of Adderbury and Bampton in Oxfordshire, Bidford (Warwickshire) and the City of Lichfield (Staffordshire). Others originate from Badby, Brackley, and Hinton in Northamptonshire - not so far from Peterborough.
Characters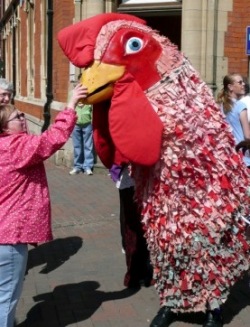 You may see a figure dressed differently from the dancers - he is The Fool. He may dance in the set or he may interact with the audience.
Sometimes we are accompanied by a beast, a large cockerel, who also entertains the audience.
Meetings
We meet each Tuesday throughout the year.
In summer (May to August) we usually visit a pub on a Tuesday evening to dance. This may be followed by a few tunes and songs inside the pub.

Regular events
In recent years we have performed a number of times at such local events as Whittlesey Straw Bear Festival, World Conker Championships, John Clare Festival, Sacrewell Farm Spring Fair and Spalding Christmas Market.
Further afield, we usually appear at Hemingford Abbotts Flower Festival, Lobster Potties Morris Dance Festival in Sheringham.

Overseas
We have also performed in Peterborough's French twin city of Bourges, Spalding's German twin town of Speyer and Cambridgeshire's German twin Kreis Viersen.

Further information
The Morris Ring website has a number of pages of information starting here:- The Morris Ring - About Morris
Local History
1827: Helpston poet John Clare mentioned "The Morrice danse" in his epic poem "The Shepherds Calendar" but he was referring to Mummers Plays.
1927 The Grantham Journal reported that Female dancers from Peterborough Women's Institute gained certificates at a jig competition with the headline 'Leicestershire and Rutland Federation of Women's Institutes: Grand Rally at Belvoir Castle, Pageantry and Pleasure for Thousands of Visitors'.
1920s: Morris dancing was taught in Adult Education classes at Brook Street, Peterborough but there were no public displays.
1979: Peterborough Morris formed in October. We believe we were the first Morris club in the Peterborough area. We started with 12 dancers, six of whom had previous morris experience.

1980: We obtained permission from Peterborough City Council to base our badge on the city's coat of arms.
1980: Saturday May 3rd: The first public performances.
1983: June. Peterborough Morris dance in as a full member side of the Morris Ring at the 199th Ring meeting, which was hosted by Offley Morris Men.